You all know how much I love Evernote. It's so versatile and can be used in so many ways! Since the holiday season is coming up fast, I wanted to share with you how I use Evernote to save gift ideas to make shopping easier at this time of year — and all throughout the year.
If you're not already familiar with Evernote, it's a note-taking and digital filing cabinet app. Their basic plan is free and has a ton of great features. If you're looking for a way to save your gift ideas and shopping list, now is the time to check it out! There is an app for iOS and Android, a desktop app, and a web version so you can access Evernote anywhere.
Keep in mind that there are many different ways that you can organize your information in Evernote. Here's the system I use to help keep track of ideas and share them with family and friends.
Create Gift Idea Notebooks
Evernote organizes related information into notebooks and stacks. If you want to save gift ideas for loved ones, the best way to start is to create a new notebook for each person. I would suggest naming the notebooks in a similar way so they show up together when in an alphabetical list. A great name would be "Gift Ideas – Mom" or "Gift Ideas – Logan". I also have a notebook for general gift ideas that I refer to when I'm looking for an idea for a friend or acquaintance. Once you have two or more gift notebooks you can create something called a stack, which is simply a grouping of similar notebooks. My stack name is "Gift Ideas". Check out what my Evernote setup looks like below.

Save Great Gift Ideas
If you're like me, you're grabbing inspiration from all over the place for gift ideas. Sometimes while I'm out shopping with my kids, I'll take a picture of something they say they desperately can't live without. Other times my mom will send me an email with an idea for a gift she would like. Or while I'm online I might see something that I want to give my sister for her birthday. Saving all your gift ideas in one spot is a huge help since it can become a comprehensive wishlist for you and those you love.
If you have pictures of gift ideas on your phone or tablet, you can send them to Evernote if you have the app installed on your device. When viewing the photo, use the share button and choose the Evernote icon to add it to your account. From there, you can select the gift ideas notebook where you want the photo saved.
Did you know that each Evernote account has a unique e-mail address associated with it? This will let you forward any e-mail you receive into Evernote if you have a Premium or Business account. Check out this Evernote Help and Learning article to learn how to find your unique e-mail address and forward e-mails into Evernote. So the next time your mother forwards you something she likes (is my mom the only one who does this?) you can save the gift idea in her gift ideas notebook.
You might come across a great gift online or a website you want to save. You can use Evernote to save gift ideas that you find while browsing the internet. To do this, make sure you have Evernote's Web Clipper downloaded. The Web Clipper allows you to grab a screenshot, bookmark a webpage or save part of a webpage. Then you can easily get back to the original source with the click of a button.
Another easy way to use Evernote to save gift ideas is simply adding ideas as you come across them. Type in gift ideas as they pop into your head and they will be added to your collection of photos, e-mails, and web clippings.  You can also save a link to any Amazon wishlists in Evernote so everything is in one place.  As you can see, Evernote allows you to save your gift ideas no matter where they come from.
Share With Family
Each November I start getting texts and e-mails from extended family members asking me what they can give my kids for the holidays. Luckily, since I have used Evernote to save gift ideas throughout the year I just have to share the notes with anyone who needs them. Usually before I share a gift list with someone else, I scan the items on the list to make sure everything is up to date and isn't something I plan on giving. Once the list is ready, I just click the share button in the top right of the note and then enable the shareable link. Then you can copy the link and paste it within an email or text to anyone to have whether they have Evernote or not. The great thing about creating this shareable link is you can continue to update the gift list even after you share the link and those that are viewing it will see your updates in real time.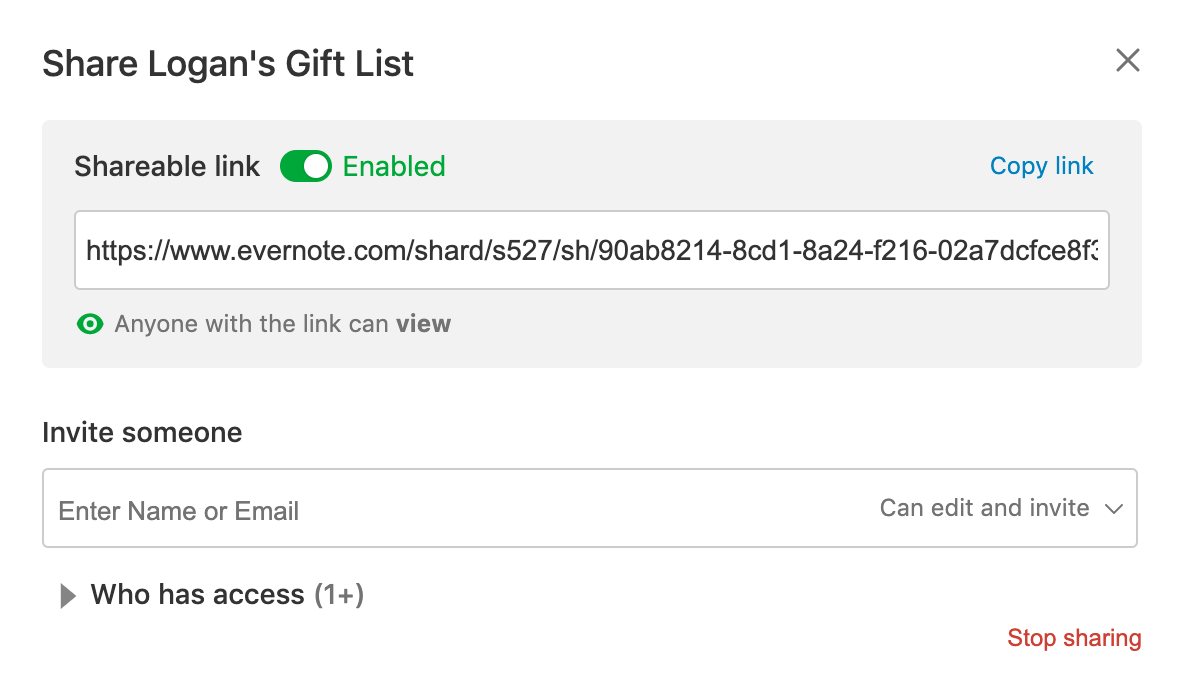 Track Gifts Given
Another thing that helps me stay organized when shopping for the holidays is to track my gift ideas and what I've purchased. These days since it's so easy to order items online, I tend to forget if I purchased an item or not until I actually open the box that comes to my door. Since I try to start shopping months before the holidays, I need to have a quick and easy way to remember the gift ideas I have for each person and what I've purchased. I also like to track how much each gift costs so I can stay within budget. I created a table in Evernote that helps me immensely during the holidays. Each person I shop for has their own section so I can see what I've purchased and how much I've spent. I also added a checkbox to the table that I mark when each gift has been wrapped since I tend to hide gifts in various places and I don't wrap everything all at one time. The great thing about this gift tracker is I can access it on my phone, tablet, and laptop so it's available wherever I need it. In addition, this list is so helpful because I can look back to see what I got my loved ones in years past. Also, if you're wondering I also track what I receive for the holidays in a similar way. It's fun to look back at what was given and received.

If you have a hard time keeping track of gift ideas for loved ones or feel stressed out about holiday shopping in general, this is a great solution. If you use Evernote to save gift ideas and track your purchases, it can make preparing for holiday shopping easier. Having this all at my fingertips has helped me feel organized when the holidays get crazy! If you are new to using Evernote and want to schedule a free virtual Evernote consultation to help you get set up, click here. If you are interested in creating a similar Evernote to save gift ideas, download a free template here.
For more information about the ways that Evernote can help you stay organized, check out my blog posts Organizing Your Life With Evernote and How To Make Going Paperless Easy.
If you enjoyed this blog post and haven't yet signed up for my free newsletter, click here to subscribe. You'll get organizing tips and advice, as well as special deals delivered to your inbox each month. If you know someone who might enjoy this blog post please share this with them. Thanks for reading!