After organizing countless homes for 16 years, I have tried out so many different organizing products for the kitchen and pantry. The kitchen is often the most used room in a home, and because of that, it's so important to keep it organized. This curated list of kitchen and pantry organization products is the best of the best and I'm excited to share it with you.
Before purchasing any kitchen organizing products be sure to measure your space carefully. Check the depth, width, and height of shelves, drawers, and cabinets to ensure that your organizing solution best fits your area. The last thing you need during a home organization project is to realize your recently purchased products from The Container Store don't fit your space!
OK, so here we go, get ready for my top 11 favorite organizing products. Do you think I missed something? Let me know in the comments below.
OXO Good Grips Lazy Susan Turntable
A lazy susan is one of the most useful products that I have used for kitchen and pantry organization projects. I use these anywhere and everywhere that I can. They work great in cabinets, in the pantry, and even in the fridge. Lazy susans are best for items that are at eye level or above so you can easily see and access items that otherwise can be hard to reach.
These OXO turntables come in various sizes to suit different purposes. The larger size works great in those awkward corner cabinet or on deep pantry shelves. There are also 2-tier versions available which are great for using in upper cabinets for small things like spices or medicine. I currently have two lazy susans in my own fridge to keep items like cream cheese and sour cream together and accessible and it works great!
iDesign Linus Drawer Organizers
This is probably my most used organizing product of all time. These durable, clear organizers make any drawer look tidy and are great for your kitchen organization project. I love using these for organizing cutlery, utensils, and gadgets. Since these drawer organizers come in so many sizes you can create a customized solution to fit your needs. The great thing is these organizers are not only available on Amazon, but at The Container Store and Bed Bath & Beyond as well.
If you can spare some drawer space, this is a great way to store your spices. You can make the most of your entire drawer by expanding this organizer to fit perfectly. It's great to be able to look down at your spices to find exactly what you want quickly and easily. If you want to get really fancy you can decant your spices into clear spice bottles and use these water-resistant labels from Etsy.
iDesign Linus Bins
These iDesign bins come in a ton of sizes and can be used all over the kitchen. You can find ones to fit any purpose. They are easy to wipe down if something spills, they look great and are easy to label.
The smaller bins are great for upper cabinets to organize anything from baking supplies to medicines. The larger bins are great for deep drawers and pantry shelves to organize foods by category. They even make ones perfectly suited for the fridge. Be sure to measure your space to find just the right bins for your kitchen and pantry organization project.
This is such a simple product but one of my favorites! It's a hook for under your upper cabinet where you can hang your bananas. You can use adhesive tape or screws to secure it in place. I like it because you can fold it up when not in use so it's never in the way. The bananas stay fresher longer and don't take up any counter space.
Elfa Pantry Over The Door Rack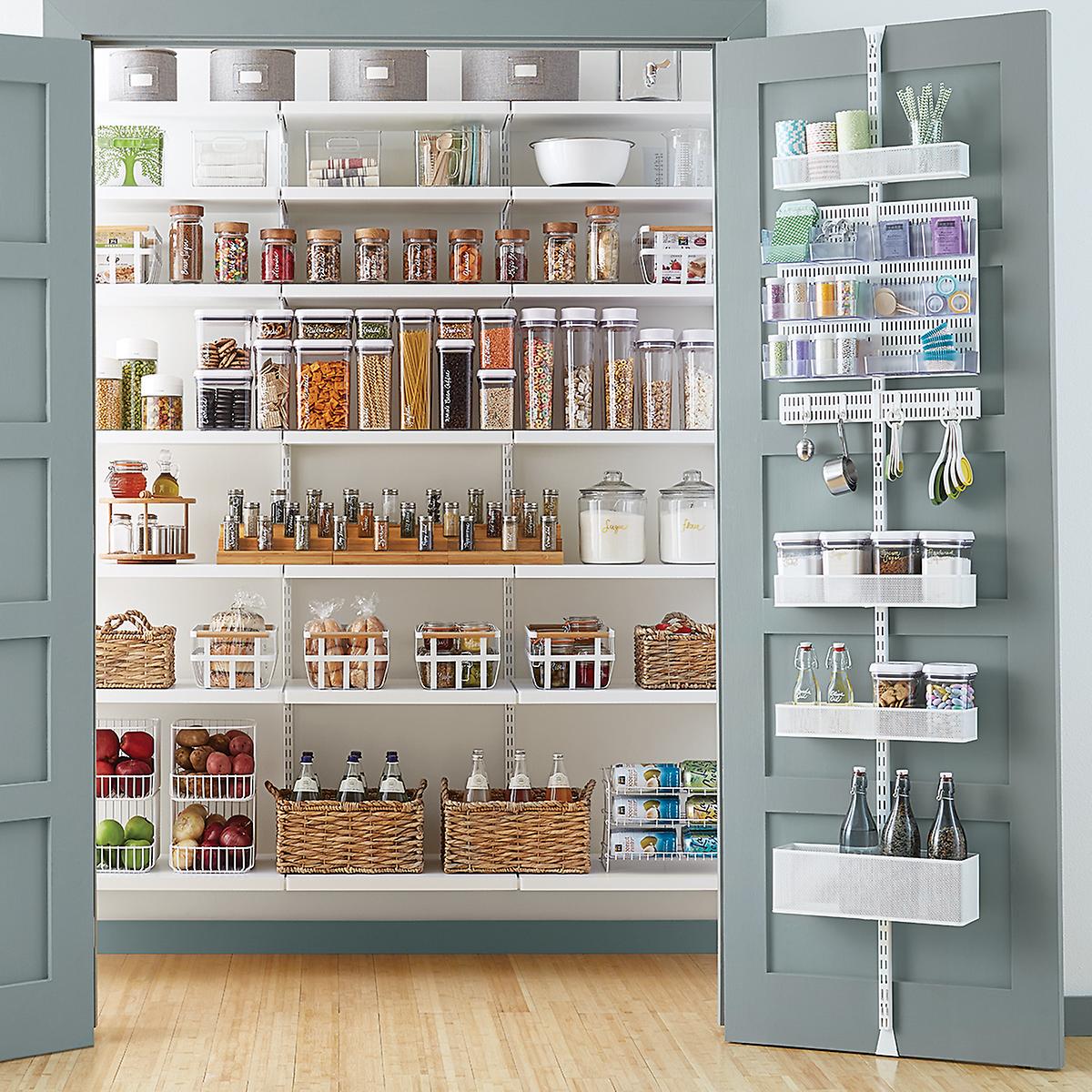 This pantry door rack from The Container Store makes pantry organization a breeze. It's a modular system that you can adjust to fit your needs. You have the option to either hang it on the door using hooks on the top and bottom or it can be drilled into the door. And yes, your door and hinges are strong enough to handle this stuff.
If the price tag for the Elfa rack is too steep, here's an alternative. These also come in narrow sizes to accommodate small pantry doors (like mine!).
Utoplike Bamboo Drawer Dividers
These dividers help to create a custom solution for your kitchen drawers. I love using these dividers to create various sections in a wide drawer for larger utensils. They are available in two different sizes and are spring-loaded so you can adjust them to fit your drawer depth.
OXO Good Grips Easy Press Dispenser
If you don't have a built-in soap dispenser in your sink, this is a great product to use. It makes your dishwashing liquid easy to access and gets the ugly bottle off the counter. I have seen so many beautiful kitchens with a half-empty dishwashing liquid bottle sitting out on the counter which is always an eyesore. The transparent bottom shows you when you are running low on soap so you can be sure to refill as needed.
simplehuman Grocery Bag Dispenser
Every home seems to have a mass of plastic grocery bags that get out of control. This is a great solution to keep them all contained. It's perfect for the inside of a cabinet door under the sink or in a pantry. The dispenser holds up to 30 bags, so it keeps you in check and reminds you that you really don't need 102 of them… right?
These OXO canisters are the best for pantry organization! They work great for items you always keep on hand like oatmeal, rice, and pasta. They help keep items fresh, away from pests, and make it easy to see how much you have. If you decant your items into one of these organizers you can cut out the cooking instructions and place them inside the container or tape them on the back. You can also use a washable marker or label maker to note the expiration date of the food item.
Plastic Storage Bins with Handles
These bins are my go-to for pantries as well as a number of other spaces. These are perfect for sorting food items into categories. This is a great product to use if you have kids so it's easy for them to grab snacks on their own. Just add a label and you're all set!
I hope that you've seen something useful in this list of my favorite kitchen and pantry organization products. A few helpful products can quickly take your kitchen from overwhelming to organized! If you need help tackling your organization project just reach out. I can be reached at (267) 970-0769 or dawn@dgorganizing.com.
Please note that the product links used above are current as of the date of this blog, so if you can't access a link, please let me know. For similar styled-blogs, 11 Must Have Apps for your Phone or Tablet is another go-to favorite for anyone tech-savvy.
If you enjoyed this blog post and haven't yet signed up for my free newsletter, click here to subscribe. You'll get organizing tips and advice, as well as special deals delivered to your inbox each month. If you know someone who might enjoy this blog post please share this with them. Thanks for reading!